19 May 2022 By
Alain Fernandez
Share
E
xecutive Dashboard is not just a mere measurement tool. It is primarily a multi-function instrument, indispensable guarantor of the implementation of the improvement process according to the principle of the French Tableau de Bord. Executive dashboard is indeed the key component of mastered performance management.
Methods, Tools and Techniques for Decision Makers
Mastering the design of executive dashboards is a determining factor of successful implementation of a winning strategy. On the condition that the role and scope of this instrument of decision support are understood beforehand.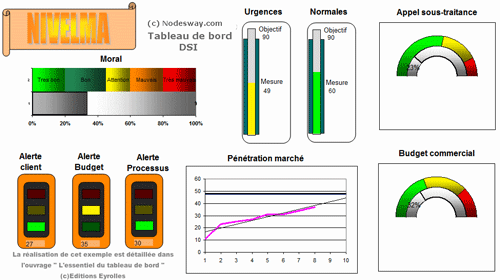 Executive dashboard example
Definition, Principle, Role and Limits of Executive Dashboard
What is a performance dashboard?
A performance dashboard is not a checking instrument anymore. It is performance measurement tool, a key to progress approach.
Follow the link...
What is performance? How to measure performance? Why measuring performance?
What are the performance measurement perspectives to lead the reactive company?
Five recommendations to choose a reliable and really pertinent key performance indicator KPI.
Methodology to Succeed a Business Intelligence Project
---
Share...





(total partages cumulés > 185)