Origins of the Sigma Methodology
6 Sigma, from quality approach to global management
O
riginally, 6 Sigma is quality process born at the heart of Motorola.
First limited to SPC (Statistical Process Control) techniques, it became quickly a real management method which includes the whole company functions.
A radical improvement process
Six Sigma has later been perfected by other groups, such as General Electric for example, which displayed it with success.
Besides, Motorola was one of the first worldwide companies to receive the famous "Malcolm Baldridge", a highly-coveted prize which rewards US companies achieving total quality.
Please note that...
Six sigma goes rather well with other approaches to industrial management and organization such as the lean management system.


The greek letter "Sigma" symbolizes statistical variability.
Recommended reading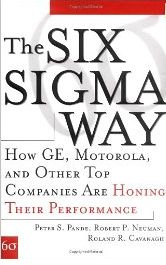 The Six Sigma Way
Peter S. Pande, Robert P. Neuman, Roland R. Cavanagh
McGraw-Hill Professional
How GE, Motorola, and other top companies are honing
their performance

Selection of books about Six Sigma
---
All trademarks mentioned on this page are the property of their respective owners.
---